7:00 PM – "Life, Animated" – Presented by the Museum of disABILITY
April 28 @ 7:00 pm

-

8:30 pm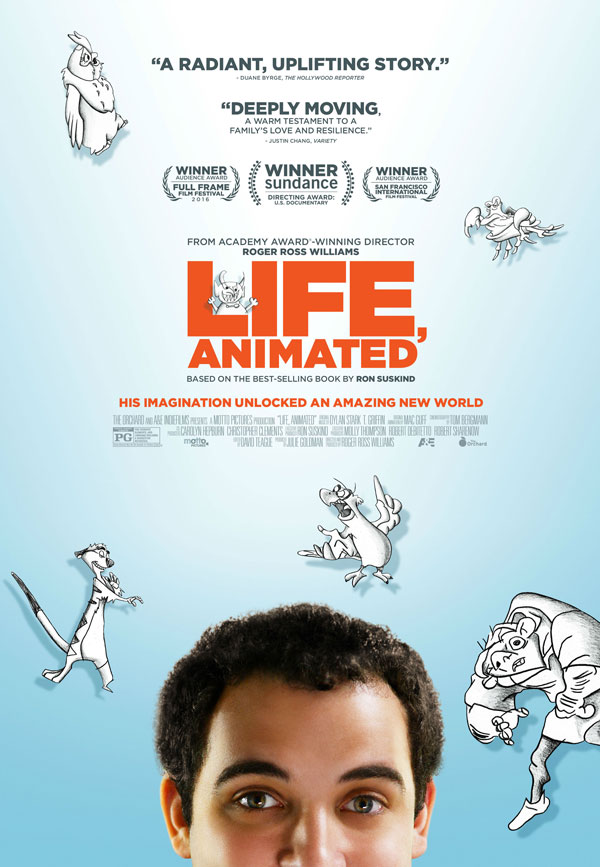 One night only!
The Museum of disABILITY and Autism Services Inc proudly present Roger Ross Williams's superb 2016 Oscar-nominated documentary LIFE, ANIMATED.
A post-film discussion will follow the show, hosted by Angela Christoforos of News 4 WIVB Buffalo.
Tickets are $7.50 at the door.

"A CELEBRATION! Tender, rich and wonderfully told."
– Andrew Crump, The Playlist
"An inspiring story. LIFE, ANIMATED makes fascinating points about the power of cinema, and about who gets to decide what constitutes a meaningful life."
– Ann Hornaday, Washington Post
"Roger Ross Williams' ace in the hole is the original animation, a mixture of black and white and lively colors that undulate with a dreamlike quality that speaks to Owen's relationship to the world."
– Eric Kohn, Indiewire
From Academy Award® winning director Roger Ross Williams, LIFE, ANIMATED is the inspirational story of Owen Suskind, a young man who was unable to speak as a child until he and his family discovered a unique way to communicate by immersing themselves in the world of classic Disney animated films. This emotional coming-of-age story follows Owen as he graduates to adulthood and takes his first steps toward independence. The subject of his father Ron Suskind's New York Times bestseller, Owen was a thriving three year old who suddenly and inexplicably went silent – and for years after remained unable to connect with other people or to convey his thoughts, feelings or desires.
Over time, through repeated viewings of Disney classics like THE LITTLE MERMAID and THE LION KING, Owen found useful tools to help him to understand complex social cues and to re-connect with the world around him.
LIFE, ANIMATED evocatively interweaves classic Disney sequences with verite scenes from Owen's life in order to explore how his identification and empathy for characters like Simba, Jafar, and Ariel gave him a means to understand his feelings and allowed him to interpret reality. Beautiful, original animations offer rich insights into Owen's fruitful dialogue with the Disney oeuvre as he imagines himself heroically facing adversity as a member in a tribe of sidekicks.
Owen's story is a moving testament to the many ways in which stories can serve as a means of persevering through the dark times, leading us all toward the light.